Welcome to Warwick Animal Hospital
Your Veterinarians in Newport News VA
Call us at (757) 595-3337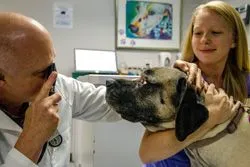 Pet Emergency? Call us right away at (757) 595-3337!
At Warwick Animal Hospital, our goal is to provide the highest quality preventive, geriatric, dental, medical, and surgical care available for your pet. We provide care for companion dogs and cats, as well as exotic pets, including "pocket pets" (hamsters, gerbils, guinea pigs, ferrets, etc.), reptiles, and amphibians. We provide limited services for birds.
Warwick Animal Hospital is proud to have the highest level of accreditation available from the prestigious American Animal Hospital Association and has been an AAHA accredited hospital for 57 years. We are also members of a variety of other professional organizations, including the American Veterinary Medical Association, the Virginia Veterinary Medical Association, and the Greater Peninsula Veterinary Medical Association.
Warwick Animal Hospital provides high-tech special services for our clients, such as laser surgery (we were the first veterinary hospital in the United States to offer laser surgery for pets), therapy laser treatments for arthritic pain, and digital radiography. Further information is available under Services.
At Warwick Animal Hospital, we treat your pets like the valued family members they are.
Dr. Paul Gustafson | Dr. April Dove
Veterinarians in Newport News | Warwick Animal Hospital | (757) 595-3337
11117 Jefferson Ave.
Newport News, VA 23601